Rubber Back Carpet Mat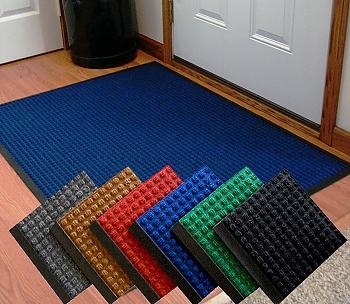 Click images to enlarge:
The Rubber Back Carpet Mat was developed as a more economical option to fit the needs of our ever-changing market conditions. Per our customer's requests, we spent over one year in research and development in order to bring these very unique and cost-effective carpet mats to market.
The backing is made of a SBR/NR non-staining, non-marking anti-skid rubber compound, so your mat stays put! A molded rubber border keeps dirt and moisture in the mat, protecting your carpets and floors. The carpet is made of quick-drying polyester, which is extremely strong with durable fibers resistant to most chemicals. The polyester also resists stretching and shrinking, mildew and abrasion.
Specifications

2' x 3' [L x W]

5 lbs.

3' x 4' [L x W]

9 lbs.

3' x 5' [L x W]

11 lbs.

4' x 6' [L x W]

18 lbs.
Part Numbers

2' x 3' Rubber Back Carpet Mat

RBCM2X3

3' x 4' Rubber Back Carpet Mat

RBCM3X4

3' x 5' Rubber Back Carpet Mat

RBCM3X5

4' x 6' Rubber Back Carpet Mat

RBCM4X6

Available Colors: Black (B), Brown (BN), Blue (BU), Gray (GY), Green (GN), Red (R)